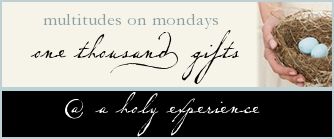 506. safety while traveling
507. another class accomplished!
508. another year to serve the Lord
509. another year to improve as an individual
510. a call from my friend who is a missionary to Zambia [made. my. day. This literally could count for all 10 reasons for being thankful this week.]
511. Happy Birthday played on the guitar
512. sunshine
513. pretty spring flowers
514. a day out with my Mom
515. wisdom for daily needs
516. Heather at Blessed Little Nest and her patience with me in this blog re-design
517. all of you followers over there ----->
518. new beginnings
Have a happy, new week...
ps...OH, did you get that it was my birthday? :) YAY!