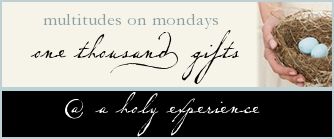 [It's been almost a whole week since I blogged last?!! Ack! Back to normal this week, hopefully. Also, as I was reviewing my week, I didn't remember as many things for my gratefulness list. That is bad. Did I not let my soul breathe this week?]
491
. on Friday, a break from my crazy busy-ness
492
. the Indie biz course I'm taking -- I'm learning so much!!
493
. grace clearly evident
494
. being able to actually follow along with the words of the hymns as I play my cello -- this is a first since I switched from playing the flute to playing the cello in the orchestra at church almost three years ago
495
.Sunday night sermons -- over and over again, I am blessed, challenged, and strengthened
Happy Monday, folks....