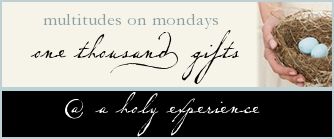 Sooo
....I finally finished updating my thankfulness journal. It's been fun to look back on each day and jot down a few things rather than looking back on the week and recounting blessings. So here is my list from the past week.
631
. Mom and I working together on a table for our school's fundraiser
632
. Mom's example of a sweet spirit
633
. recovery from sickness
634
. safety for Dad as he flies thousands of miles every year
635
. a fun day with Max and Rachel
636
. provision
637
. chatting with a lady in my church
638
. adversity
639
. the 90 day challenge
640
. a very good chat with Dad and Mom about something coming up in the future
641
. cello lessons!!
642
. modern medicine
643
. chats with Mom
644
. protection
645
. safety for our missionary friends as they travel
Happy Mooooooondaaaaaaaaaaaay! Another new week filled with new mercies! Hall-le-lu-jah!