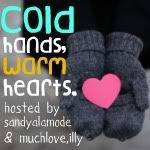 I recently participated in a swap. I missed the Cold Hands, Warm Hearts swap last year. But when
Ilene
and
Sandy
mentioned they were doing another one, I jumped at the chance.
Actually, this is the second swap of the Christmas season.
The first swap was a bit of a dud...shhhh
.
So I was a bit leary about opening up my second package. In fact, I may have said I would never do another swap again and get burrrrrrrrrned like I did.
B.U.T., when I opened my package from
Megan
, my hopes were boistered that there are lovely swap partners in the world.
Looooook what I received....
...packaged so cutely.
Gloves!!! That I've worn already. I love them.
A big, fat bar of lovely smelling soap. I'm a sucker for bar soap, especially the fancy kind. This is right up my alley.
And last but definitely not least, a lovely, sparkly ornament.
Thank you so much, Megan, for such a delightful package. And I mean that from the bottom of my heart!
...This one makes me chuckle.
I'm a hoot art print
...An adorable little love print
a little love print
...And I love state prints. Even though I'm not from Ohio [strictly a Hoosier, at the moment], this print is adorable!
Ohio art print
Have a wonderful, lovely day everyone. It's raining like the Dickens and there is no snow in the forecast for the next ten days. I'm not very confident this is going to be a white Christmas.