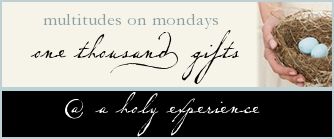 Unless we are intentional about giving God glory throughout the day, our days unintentionally give way to grumbling
. --Ann Voskamp
And I must admit, I've succumbed to grumbling lately. Even "nice" grumbling [off-hand comments about situations]...but it eats away at the soul. I need to be
more
intentional,
more
grateful.
Sunday was a
beautiful
day. The Lord continually blessed me with beauty and opened my eyes to see it.
576
. a picture perfect Sunday
577
. blue, blue sky with white puffy clouds
578
. beautiful pink flowers woven into the edges of a cornfield [never seen this before and it caught my eye]
579
. Sunday afternoon drive alllllllllllll the way home by myself -- time to reflect and praise God
580
. heart-warming, encouraging music ---mmmmmmm!
581
. a simple comment that was an encouragement
582
. diverse friends -- all personality types, all Christians with a heartfelt desire to honor and obey the Lord
583
. my online friends -- you know who you are :) -- promises of prayer for each other and encouragement with lots of laughter [via Skype] thrown in for good measure!
584
. hymns and spiritual songs in the church service
585
. the tender lovingkindness of my Heavenly Father towards me -- He loves me and He sure does know how to encourage me at
just
the right moment. Isn't that so like Him?!!
HAPPY MONDAY, almost Tuesday.
REBECCA.