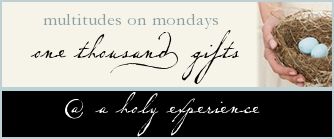 [waving]
Hi, everyone
! I'm feeling particularly chatty right now. It's Sunday night [late] and it has been a
good
day. I'm actually getting my Monday post up about 45 minutes before Monday even starts [hooray for me!]. There has not been much content on this blog but that doesn't mean that I've been sitting on my hands. I have one project that just won't let me finish.
Hopefully
, it's done this week. [cross my fingers] This is going to be a fantastic week. I just
know
it!!
546
. freshly plowed fields
547
. Sunday morning drives
548
. music to listen to on those Sunday morning drives [three cheers for a CD player in the new van!]
549
. chats with friends Sunday night after church
550
. the ability to exercise
551
. lunch with a friend
552
. flowers, flowers everywhere!
553
. buds on trees and the promise that spring is here... it really
is
here
554
. anticipation of a new project
555
. sewing
556
. that my Mom is still here for another Mother's Day -- I am
beyond
humbled that the Lord has so graciously given her health for us to love on her for another year. Some
dear
friends
have lost their mother -- the Lord has taken her home -- and my heart hurt for them on Mother's Day.
557
. some of the preschoolers in our class could actually remember some of the 10 Commandments --
mon
.
u
.
mental
.
558
. a friend who will pray
with
me.
559
. how the Holy Spirit convicted me through the Word on Sunday at church
560
. missionaries :)
Happy Monday and happy new week!