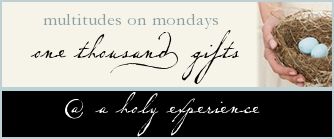 God was so unbelievably gracious to me last week. The word that was in my mind was
lovingkindness
. He provided for me and blessed me in ways that were special to
me
.
471. His lovingkindness
472. His provision
473. working out my schedule on Friday
474. helping me get through Pachabel's Canon on my cello [woohoo!]
475. the Holy Spirit starting to work in my heart to prepare me for....
476. ...Sunday night's sermon [which I needed]
gifts that I tweeted about...all with the hashtag #1000gifts
477. Friends that answer their phones
478. A wonderful, productive, encouraging day
479. In a "ridiculously, good mood" on Valentine's day. Here are my exact words..."Epic...especially since I'm single. God is so good to me!" #1000gifts
480. 42 degrees and melting snow
Happy Monday, folks...