Here goes three blog posts wrapped into one.
First of all
.....Scripture memorization. How goes it? Just o....k....! I basically have the first two sections of eight verses memorized [
what is each section called....I missed most of the Sunday school lessons on Psalm 119
]. While I am not as far along in my
mega memory month
goal
as I would like, I am memorizing and that is a good thing.
Secondly
...I made my
third pillow
tonight. I whipped it out like nothin' doin'. haha!! It feels so good to sew. Now that I'm getting the hang of using my machine, I feel like simple pillow covers are too blah and boring. I need to spice them up a bit. Yay for progress! I'm also looking into taking a second class over at my favorite sewing and fabric
store
. Can. Not. Wait.
Thirdly
....my thankful list.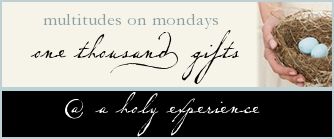 411
. plenty of time this week to work
412
. snow, snow, snow
413
. laughter, homemade soup, and conversation around the dinner table with the family
414.
a check in the mail for unused things sold on Ebay through a local store
415
. green lights when I am in a hurry [never under-estimate them]
416
. Oma is feeling better [one round of chemo down, five more to go]
417
. my Momma [love her]
418
. an email from a missionary friend [halfway across the world in Zambia]
419
. a lower estimate and the price being approved to get the bumper fixed [I never blogged about my fender bender, did I??]
420
.
psalms, and hymns, and spiritual songs
Happy Monday, friends...